EXPLORE THE RED CENTRE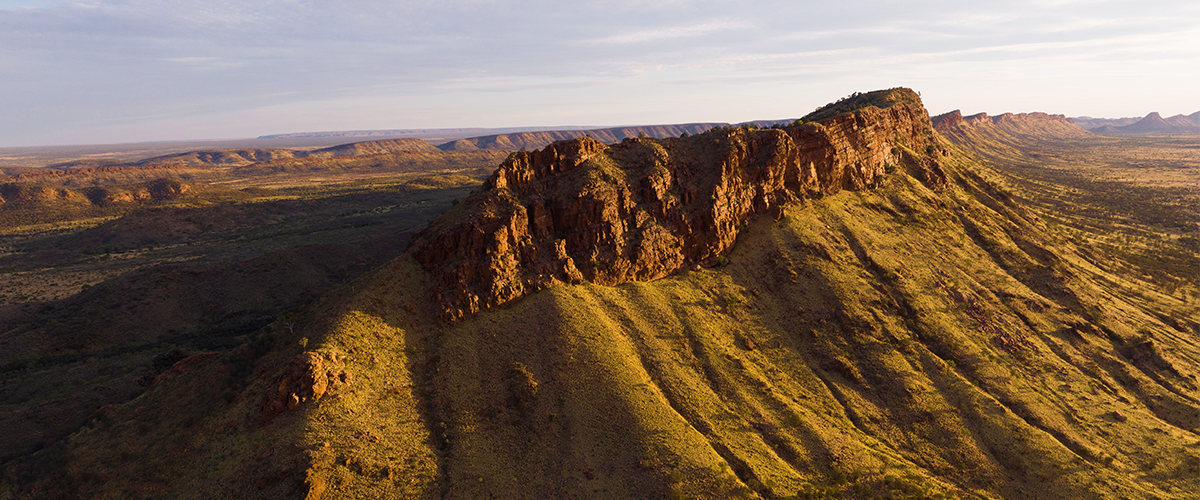 Alice Springs was established by the early explorers and remains as the centre of activity in this region. From the early 1900s, the vast desert of Central Australia was explored for its promise of rubies and gold. Today, north of Alice is an adventure travel destination where visitors can still fossick for gems and explore the Australian desert while trekking, camping or four-wheel driving.
North-west of Alice, along the Tanami Track and south of Alice Springs in the Simpson Desert, the art styles and stories of the Aboriginal people give meaning to the surrounding landscape.
The most well-known natural highlights of Central Australia are the East and West MacDonnell Ranges that straddle Alice Springs and run for 223 kilometres.
Visitors to the NT's Red Centre can enjoy views of dramatic scenery, bushwalking, swimming, four-wheel driving or quad-bike riding.
---
Where to stay in Alice Springs
From five-star hotels, wilderness resorts and luxury safari camps to B&Bs, farm stays, bush camping and backpacker hostels; the Alice Springs region offers a unique accommodation option for every type of traveller. 
Book your Alice Springs accommodation here
---
What to see and do
Finke Gorge National Park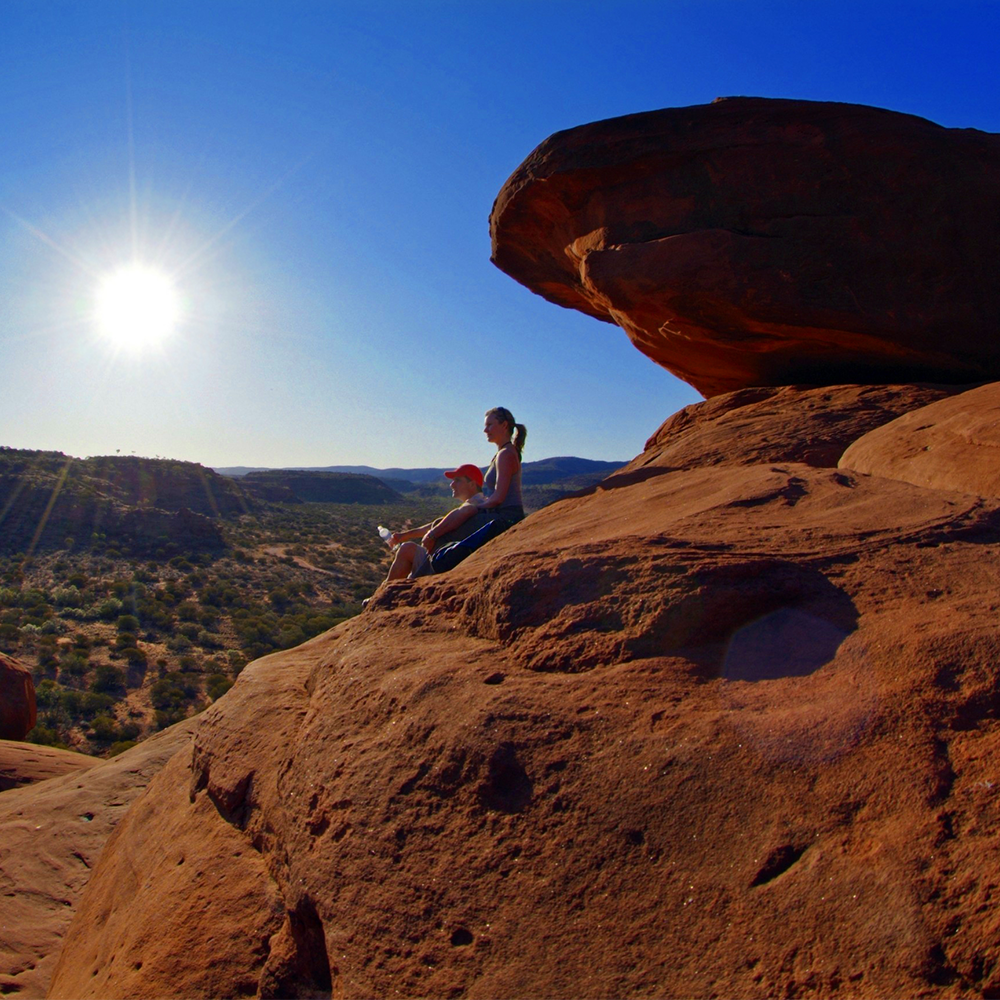 Situated along the Mereenie Loop Road, 130 kilometres south west of Alice Springs is the Aboriginal community of Hermannsburg and just beyond it, the stunning expanse of Finke Gorge National Park.
Hermannsburg was the German name chosen by the Lutheran pastors who established a small mission for the Arrernte Aboriginal people here in the 1880s. It is best known as the birthplace of artist Albert Namatjira whose house, three kilometres west of Hermannsburg, is today open to visitors.
It is also possible to organise day tours from Alice Springs however a campsite and basic accommodation are located in Hermannsburg. Camping facilities are also available at the nearby Palm Valley in the Finke Gorge National Park.
The Finke River is thought to be one of the world's oldest water ways but the National Park is best known for Palm Valley, which contains groves of unique and beautiful cabbage palms - botanic remnants from millions of years ago, when Central Australia was lush with tropical forests.
Further west along the Mereenie Loop Road is the fascinating Tnorala (Gosse Bluff) Conservation Reserve, the site of a huge crater and subsequently a place of international scientific interest as well cultural significance to the Western Arrernte Aboriginal people.
Visit Finke Gorge National Park
---
MacDonnell Ranges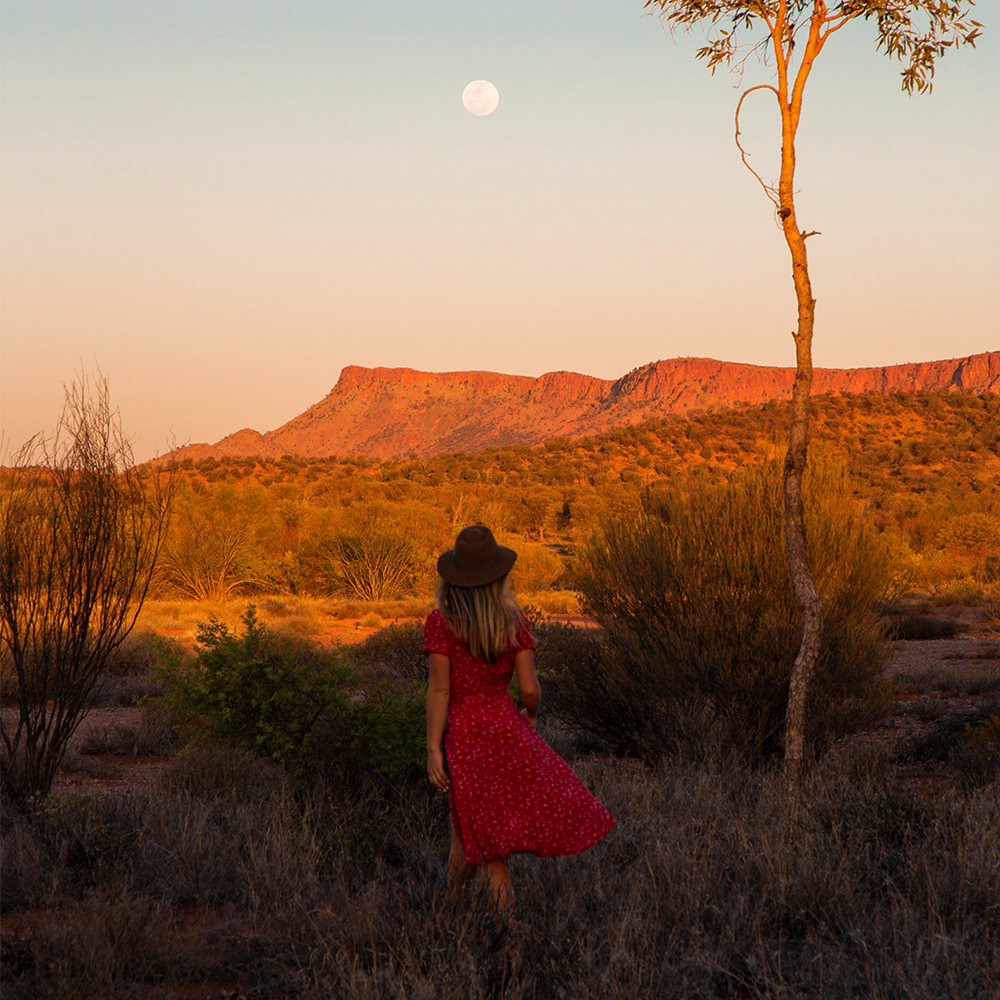 The East and West MacDonnell Ranges stretch out for hundreds of kilometres on both sides of Alice Springs.
The traditional owners of the Alice Springs area, the Arrernte people, believe giant caterpillars called the Yeperenye became the Ranges - they entered this world through one of the dramatic gaps in the escarpments of the area.
The panoramic landscapes of the West MacDonnell Ranges are easily accessed from Alice Springs. Each of the West MacDonnell's chasms and gorges has its own unique character and scenery. Simpsons Gap sports a permanent pool and rock wallabies live in the gap's rocky ridges. Standley Chasm lights up in fiery colours reflected by the overhead sun at midday.
Picturesque swimming holes such as Ellery Creek Big Hole, Ormiston Gorge, Glen Helen Gorge and Redbank Gorge offer refreshing relief on a scorching day. It is also possible to visit the Ochre Pits that desert Aboriginal people once used as a quarry for ochre pigments.
The East MacDonnell Ranges, while not as well known as the West MacDonnells, do provide beautiful scenery for bush walking, camping and four-wheel-driving. Visit Arltunga, a ghost town that was the site of a gold rush in the 1930's. Other places of spectacular natural beauty like Trephina Gorge, make a trip to the East MacDonnells more than worthwhile.
Visit East MacDonnell Ranges and West MacDonnell Ranges
---
Simpson Desert
The Simpson Desert stretches south from Alice Springs towards the South Australia border.
Many attractions located on its fringes are an easy day trip from Alice Springs and deliver a taste of its fascinating natural, cultural and historical wonders.
Rainbow Valley, nestled in the James Ranges, is a spectacular sandstone bluff with rainbow like bands, best seen in the late afternoon sun or after heavy rainfall. An easy stop off on the way to the renowned desert landmark of Chambers Pillar is the Ewaninga Rock Carvings Conservation Reserve where rock carvings and petroglyphs provide a fascinating record of many important beliefs of the local Arrernte people.
It is possible to organise tours from Alice Springs into remote Simpson Desert Aboriginal communities like Santa Theresa and Titjikala where you will have the chance to hear first hand accounts of desert life and invest in local arts and crafts.
Truly intrepid types can investigate bush walking and camel trekking trips across the Simpson Desert, which also hosts some of the best four-wheel-driving in Australia. An endless horizon, rolling sand dunes and challenging desert four-wheel-drive tracks all contribute to an ultimate frontier experience. Travelling through this desert region means exploring territory very few people have seen.
Visit Simpson Desert
Head North of Alice Springs
The area stretching north of Alice Springs is known for its serene beauty and as a setting for gem fossicking, bush walking, bush camping and four-wheel-driving.
The Plenty Highway leaves the Explorer's Way 70 kilometres north of Alice Springs and links travellers with Queensland through the Harts Ranges - the scene of a gem and mineral rush in the 19th Century and an area of great cultural significance to the Arrernte people. You can have a go fossicking for your own gems with a tag-along tour from Gemtree, hunting for semi-precious stones such as garnets and zircons.
The Tanami is the epitome of what most of us regard as a desert - a vast, flat and sandy red landscape. The notorious Tanami Track cuts a 1,050-kilometre sandy course from Alice Springs to Halls Creek in Western Australia's Kimberley region and should only be tackled by the most experienced of four-wheel-drivers.
Those travelling further north along the Explorer's Way will find settlements such as Aileron a welcome pit stop, just as they were for early pioneers working along the old Overland Telegraph Line that once relayed messages between Adelaide and Darwin.

For more information, visit the Top Things to do in Alice Springs